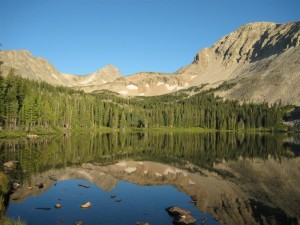 Peace in the name of Jesus to all of you!
As God continues to faithfully prepare me for what lies ahead, I am excited to share some updates with you.
At the end of July, I moved out of the house I have lived in for the past 4 years with 7 other brothers who were attending Colorado School of Mines. I now have the blessing of living a little farther east in Golden with a couple that is graciously hosting me as I go through the application and support raising process to join staff with Engineering Ministries International (eMi). Please continue to pray for the application process and that God's leading would be evident.
The application process to join staff with eMi continues to move forward, as I initially pursue a project engineer position based in the Colorado Springs office. At this point, my references are being interviewed, and I expect to hear back from eMi within the next month about interviewing in Colorado Springs. Praise God that I was able to complete and submit my eMi application just over a week ago!
I have been able to spend some time in the mountains over the past few weekends, which God has used to refresh and inspire me. I hiked over 20 miles with more than 10,000 feet of elevation gain to climb Mt. Belford, Mt. Oxford, and Mt. Antero a couple weekends ago. This past Saturday, I got to take a fishing trip to Little Mitchell Lake and Blue Lake in the Indian Peaks Wilderness. The picture above is a view of God's splendorous creation early in the morning looking from Mitchell Lake toward Mt. Toll (almost a "13er," rising 12,979 feet above sea level). Praise God for the beauty and peacefulness of the mountain areas He created!
My church is preparing to host the Perspectives on the World Christian Movement course next spring, which I am helping coordinate. Please pray that God would motivate many in the church and in this area to take the course and that the Holy Spirit would birth deeper intimacy with and devotion to the Lord as a result. Pray that God would raise up His people with purpose and passion to reach the lost in every community of the world. May God's fame and renown spread!
I have another opportunity to visit a West African country as an eMi volunteer civil engineer! There is still a need for civil engineers for an aquaculture and hydroponic training center project trip to the Abak District of Nigeria for about 2 weeks in October. This unique project for Prayers Farm Nigeria will involve the use of a spiral water wheel system to lift water from the river to the fish pool, which is a very interesting hydraulics application to me. Please pray that the Lord would provide direction for my involvement with this project, as I am eager to return to the West Africa region, but I also want to wait on God's timing if October is too soon to return.
May the God who gives endurance and encouragement give you a spirit of unity among yourselves as you follow Christ Jesus, so that with one heart and mouth you may glorify the God and Father of our Lord Jesus Christ…May the God of hope fill you with all joy and peace as you trust in him, so that you may overflow with hope by the power of the Holy Spirit. (Romans 15:5-6,13)
Reflecting HIS glory,
John